Smoke Tubes (Low-Corrosive)

Indicate the airflow in a room and/or find leakages in pipelines with the Kwik-Draw Smoke Tubes (Low-Corrosive).

These easy to use Kwik-Draw Smoke Tubes produce a visible aerosol plume of white smoke when the top of the glass tube is opened. A simple squeeze rubber bulb pushes air through the tube to propel the smoke into the ambient air. Even the most gentle air currents are made visible. If the test is completed before all the smoke is used, the tube can be sealed using rubber caps provided.
The product is available as a kit complete with 10x Smoke Tubes, rubber sealing caps, and a rubber bulb for creating the aerosol plume, or as a pack of 10x refills.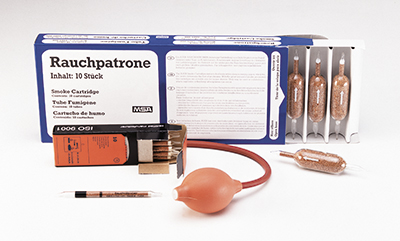 Application Part No.
Type
Part No.
To identify air flow patterns and leaks
[10 tubes/pkg]
Smoke generating tubes
D5019704
Especially for smoke generation with ventilation smoke
tubes also for other smoke generating tubes
Rubber aspirator bulb
[not corrosive]
D5019710
Pump for smoke tubes
Manual smoke pump
D5019903
Electronic pump for smoke tubes and -cartridges [Toximeter II]
Electronically smoke pump
D5142705
Corrosivity explanation

Non-Corrosive: D5019708 + D5019709 are tubes that create Non-Corrosive gas, based on Ethylendiamin. This tube is totally safe to use and can be used where human presence is high. The smoke from these tube do not leave residue.

Low-Corrosive: D5019704 are tubes that create corrosive gas, but a low corrosive, Tin based gas which is used mainly for breathing apparatus fit test and Ventilation check. It makes an human to cough when in contact with the smoke and thus widely used for Breathing Apparatus fit test.

Corrosive: D5019701+ D6009000 is a tube that creates a high corrosive gas, an Olium based as which is used for air direction and fume hood applications where human breathing or presence is very low.